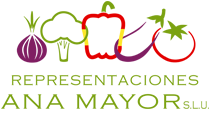 Representaciones Ana Mayor
At Representaciones Ana Mayor, SLU we have a long tradition and experience in the distribution of fruit and vegetables at national and international levels, based on the commitment of the best suppliers in the sector.
Ana Mayor is a commercial agent who has been working since 2001 in this profession for a company. Since January 2011 as self-employed.
Ana Mayor supervises all areas of the business, from product development up to loading. The development of new products is always a new goal for her that she achieves with hard work and experience.
For more than 16 years, she has been working with responsible transport companies, which always ensure timely delivery.
Ana Mayor sells only Spanish products. End customers often see her as a Purchase Department, suppliers as an excellent Sales Department.
She always works according to the philosophy: There are no difficult customers, only clients who know what they want.
She has a clear focus on continuous improvement and customer satisfaction, therefore she performs rigorous checks on all our products and carry out a selection of the best fruits and vegetables in order to offer a quality product while respecting the environment.
Her experience and quality policy linked to daily improvements and monitoring of the activity that she performs, make her one of the best options for the distribution of fruit and vegetables at European level.